Ever since we started nearing the time when Spencer would move from his crib to a toddler bed, I began thinking of what we could do with the crib.  It is a drop-side crib so we couldn't re-sell or even give it away and though it can be used as a full-size headboard and footboard, we don't currently have a room where we need or want a full-size bed set up full time.  I stumbled across an idea on Pinterest for using an old crib as a desk and though we have a kid-size desk, with two young kids at home, I need more room for both of them to work.
The basic idea is that you disassemble the crib, set it up like it's going to be a daybed without side rails, and use what was the crib's bed surface (minus the mattress) as a desk.  Depending on your particular crib, you might need or want to paint part of all of the crib/desk, which is what I did.  Here's a link to the tutorial from A Little Learning For Two and the Pin so you can re-Pin if you like it!
I debated about painting the dark wood another color (like white) and using black or green chalkboard paint on the writing surface, but after asking for some opinions, I decided to leave the wood as is and paint the desk part.  I had some bright blue paint leftover from giving new life to a cheap table I got from Craigslist and the paint guy at Lowe's told me that you can use any flat paint as chalkboard paint, you really don't need to buy special paint.  And at least in my case, that is true!
The second part of my weekend project was completing something I tried on a whim after seeing it (where else?) on Pinterest, making child's seating out of plastic storage crates, foam, and fabric.  I thought this one looked easy enough because instead of having to sew, you just use one of my favorite craft tools, a hot glue gun!  Check out the full tutorial at Tupelo Honey and re-Pin it from here!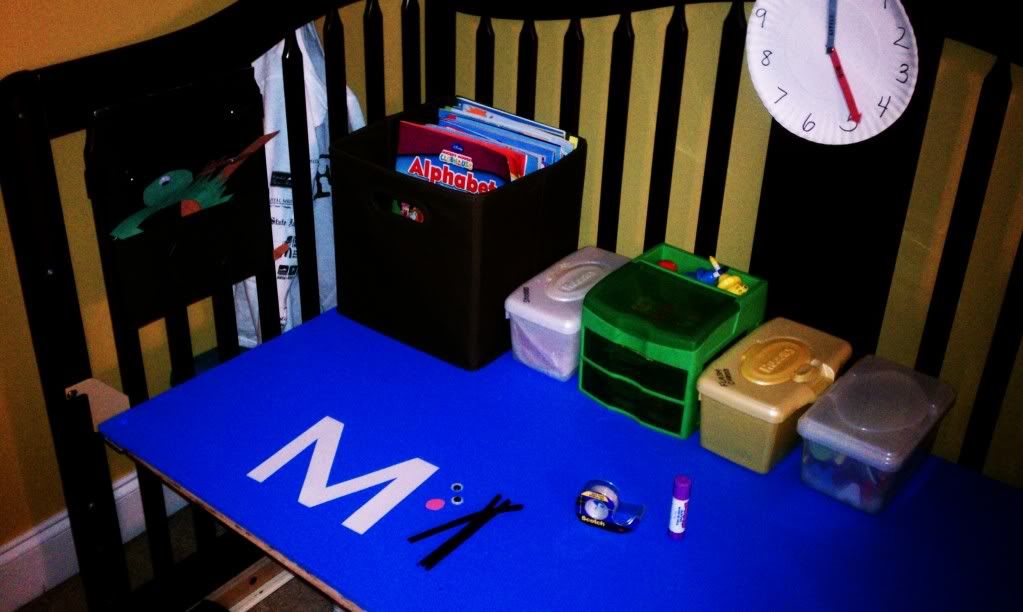 I'm still toying with the idea of putting cork boards and hooks along the back and sides of the desk to hold supplies and creations.  I've done a few things, like putting up two pocketed folders to hold creations and a hook on one side to hold smocks (AKA old t-shirts) for messy projects.  I put some containers to hold coloring books, crayings, and other supplies and my major kids craft supplies (glue sticks, construction paper, pipe cleaners) are in clear plastic drawer storage underneath.  As far as adding other things, that might be something I do more if/when we use it for homeschool or homework, because right now it will mostly be used for our letter crafts and Play-Doh!
See more photos here!
So far, this has been a "free" project:
Crib – Upcycled
Paint – Still around from last time
Plastic crates – Upcycled
Fabric – Found
Foam – Found
Do you have any great ideas for what to do with the back of the desk?  What would you put up there?

Pin It