There's something exciting about seeing stories come to life for your kids. For parents who are active in church and want to pass on Bible stories to their children, The Beginner's Bible
has been an excellent tool since 1984. Now The Beginner's Bible has been brought into the latest technology with an app for iPad!
First, the details:
The free app can be downloaded from iTunes (search for "The Beginner's Bible") or by clicking here.
There are six stories pre-loaded in the free app along with a game, coloring pages, a nd puzzles related to those stories.
Additional story packs (six per pack) are available for purchase at $1.99 each!
The Beginner's Bible App is designed for children ages 2-6. I sat down with my boys, ages 4 and 2.5, last night at our regular nighttime Bible story time and used The Beginner's Bible App to read to them. When the app opens, you have the option to Read or Play. We chose to read the creation story first.
The stories have text and animated pictures to accompany the words. The words are read as they are highlighted onscreen and sound effects supplement the story. The pictures move in response to touch, which helped my 2 year old stay engaged. One feature I wish the app had is a prompt telling you when it's time to press the arrow to turn the page.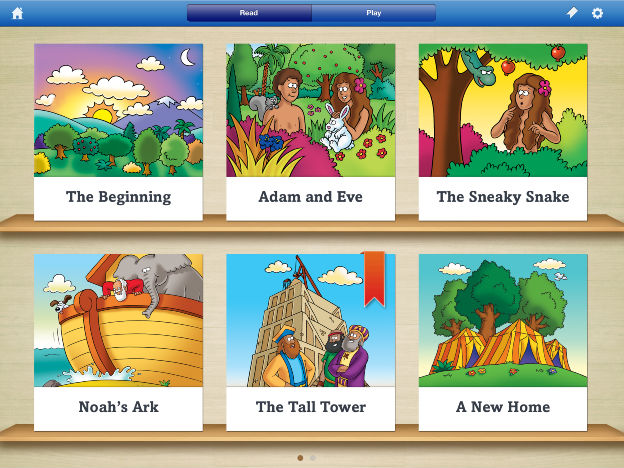 The coloring pages, puzzles, and game are all fun and age-appropriate. The game included in the free app is much like a popular fruit cutting game that my 4 year old enjoys playing. The puzzles are easy enough that kids won't get frustrated and both of my boys love apps that allow them to color.
For parents and kids that want to do more, BeginnersBible.com has more fun online games, puzzles, and printable activity sheets to complement what they're learning from any version of
The Beginner's Bible
. See the full line of The Beginner's Bible products
here
!
We absolutely loved The Beginner's Bible iPad app! I see this becoming a regular addition to our reading of Bible stories with our boys. I know they'll enjoy the added interaction available on the app and I'll love seeing them gain a deeper understanding of Scripture.
I received a copy of The Beginner's Bible from Handlebar Publishing in exchange for my honest review.
Post contains affiliate links.