We are having some pretty severe weather in Kentucky right now.  It could be something major or it could be nothing this time, but with it not being spring yet and already having a couple of tornado warnings already, I thought today would be as good a time as any to put togehter some "go bags" for emergencies.  I tried to think ahead to any other possible emergencies and not just today's severe weather threats as I put together the bags.  Jamie said I should share what's in our stash, so here you go!
Dogs' Go Bag
I even put together a small Go Bag for our dogs in the case that we ever need to leave town suddenly with our dogs.  In their bag I have:
Two recloseable plastic bags full of dog food
A bag with a handful of dog treats
A reuseable bottle full of water
Two dog leashes
One small dish for water and food
I recently had new tags made for the dogs, something I have been meaning to do since we changed our location 3 years ago (oops!).  So all of that is updated and today when we left for shelter (we don't have a basement), the dogs were secured in their cages in the garage.
Family Go Bag
There are four of us in our family in various potty-training stages, from the un-trained to the  well-trained but nighttime wetters.  Since I plan for this bag to be ready for use throughout the next 6 months or so, I wasn't sure what to do about bathroom needs, but you'll see I have quite a few bases covered.
Two smallish fleece blankets
One sheet
One recloseable plastic bag with multiple candles and a lighter
Small first aid kit which includes matches
One small battery-operated lantern
A change of clothes for each of us (the boys' shirts are matching orange and blue stripes and Brandon's and myself have a navy blue t-shirt.  In my semi-neurotic state this morning I thought that would help us find each other if God-forbid something serious were to happen).
5-6 diapers
2 pairs of nighttime Pull-Ups
3 pairs of underwear for Miles
One roll of toilet paper
Small travel size toiletries (soap, shampoo/conditioner, toothpaste)
Four baby washcloths
Two kids' card games
A jacket (with a hood) for each of us
I still need to add a few items to feel really prepared, like a NOAA weather radio (battery or hand crank powered) and batteries.
Food To Go
I was really unprepared to create a Go Bag with food today, so this is what made the cut today:
Two bottles of water
A can of soup (it's a pop-top, no opener needed)
A bag of Valentine's Candy (!)
Clearly I need to work on my food survival skills.  I don't think I would do well in a true emergency.  I stress eat, so I imagine our food rations would be depleted within a few hours.
Today's Additions…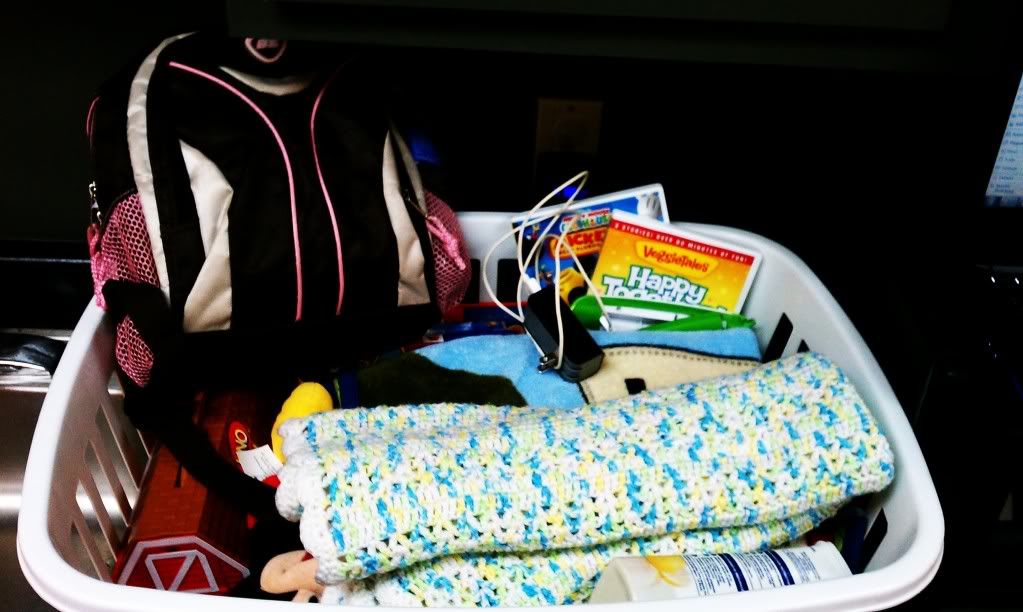 When we decided that for today's storms we would go to our church's basement, we grabbed a few extra things because we knew where we were going and approximately how long we would be there.
We also took:
A large flashlight
Some tools, including a hacksaw, in case we need to help others if there is bad damage
A gas can (We filled up our car with gas before heading to shelter)
Some games for the kids
Several DVDs for our boys to watch (until the power goes out)
Two large deli sandwiches for dinner (for us and our friends who will be joining us here), chips, and drinks
Phone chargers
iPad and LeapPad
You have to laugh…
Here are some of the funny thoughts I had while packign these bags today (via Facebook):
Hmm.  I don't have much to do today, should I make an emergency bag just in case we do get some destructive storms??
I'm pretty sure my emergency bag is going to be overkill for ANY emergency situation.  #overprepared
It seems like a smart idea to pack a change of clothes for all of us, with the same colors.  Oh here are matching shirts for the boys.  Maybe Brandon and I have an orange shirt too that I can pack…Is that too much?  Would we be the laughingstocks of the fallout shelter?
Turns out we do NOT have orange shirts…but we do have navy blue shirts, which is also in the boy's shirts…I think I'll do that.
I am quite unprepared for an emergency in the food department.  We may have to survive on Valentine's Day candy.
I am packing some of it in there though.  It will make the boys happy and the leftover mustache suckers will make me laugh.
Okay I did end up packing a lot of candy.  But not all of it.  That would be irresponsible.
Really though.  As far as unopened food stuff, there is some icing, lots of pasta, a few canned things we will be using for meals this week if our roof doesn't blow off, and relish.
Ah! Found a can of soup that isn't planned for…score!
I really should have charged the batteries for Miles's LeapPad.  If the power goes out that thing is gonna get PLAYED.
Making lunch for the boys plus a few extra sandwiches for our Go Bags.
We just had a long conversation about whether or not to put the chicken we have for this week's meals in the fridge or freezer.  "If there is a tornado we won't be eating chicken at home tomorrow." "Yeah and we will be DEVASTATED about the $2 of chicken we just lost."
Headed to shelter at our church's basement.  Brandon says we are more prepared for a zombie apocalypse than a tornado, judging by our supplies.
I can assure you there are even more things I was laughing about as we got ready for the storm.  Unless you really like dark humor, I'm pretty sure you would be offended…
More great ideas can be found on my Be Prepared board on Pinterest, where I've gathered up the best ideas, lists, and tips for emergency preparedness!