A few months ago, I was at my local Walmart doing my grocery shopping.  I was passing by the baby section and noticed a new display at the end of one of the aisles.  I love new things, so I stopped and looked closer and couldn't believe what I was seeing — cloth diapers!  Real cloth diapers, at Walmart!
Yes, it's true!  Coming to a store near you (if they aren't there already), the Mabu Baby Eco-Diaper System!
I am so excited to share with you my review of this new cloth diapering system!  I am very enthusiastic about this brand and I have lots to tell you about this hybrid cloth diapering system!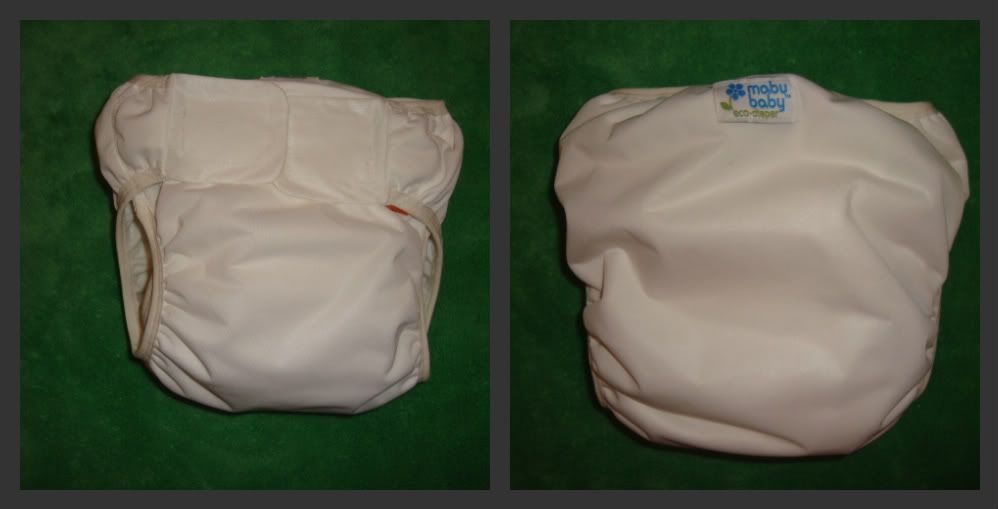 What I Love About Mabu Baby Diapers
Affordability –  The Mabu Baby Eco-Diaper System is reasonably priced for families wishing to make the switch to cloth diapers.  In addition to shrinking their footprint on the environment, Mabu Baby states that you can save up to $50 a month by using their system.
Availability – One of the reasons I am so excited about this brand is the idea of being able to pick up another set of disposable pads or diaper pads in the same trip that I do my grocery shopping for the week.  Instead of ordering diapers online and waiting for shipping or driving to the nearest large city with a specialty store, I can save time and money by buying at a store I already frequent.
Simple – The Mabu Baby Eco-Diaper System is a hybrid system, which means you can use a washable OR disposable pad.  But even though there are multiple parts to the diaper, it's still super easy to use.
Adapts with you – Washable pads will always be the most economical way to cloth diaper, but sometime you don't want to deal with wet diaper pads and would prefer to toss out soiled diapers, particularly on the go.  Mabu Baby diapers are great for home or as a diaper bag option.
Multiple sizes – One-size systems can be nice, but to make sure you get the best possible fit for your baby, it can be better to have different sizes.  Mabu Baby diapers come in Newborn (4-11 lbs.), Size 1 Mini (6-13 lbs.), Size 2 Midi (9-20), and Size 3-4 Maxi (15-40 lbs.).  All diaper components are sized, including outer diaper cover piece, washable pads, and disposable pads.

Design & Features
The Mabu Baby Eco-Diaper System uses microfiber terry cloth for the washable pads and EcoWix, a green high-tech poly fiber made from recycled plastic bottles and white bamboo charcoal.
These diapers are so soft!  I love the feel of both the outer and inner parts.   Even the hook and loop closures are soft.
The outer part of the diaper is waterproof, unlike gDiapers, another hybrid system.
These diapers are very trim, with either form of insert, and fit nicely under clothes, including jeans.
The snaps for the pad holder are designed so that the diaper pad and its holder will stay in place where your baby needs the most protection!  There are 3 snaps in the front (except on Newborn sizes) and 2 in the back.  The snaps are covered by the EcoWix fabric and won't leave marks on your baby's skin.
The fold-over pieces of the diaper pad holder and outer give added leak protection in both front and back.
The design of the diaper pad holder acts like a gusset (Click for a photo), providing another layer of protection to keep messes in the diaper where they belong!  These are features you don't get on other hybrid systems like Flip or Econobums (and yes, if you're wondering, Flip inserts will fit in the Mabu Baby diaper pad holder!).
Please note:  After viewing my video review, Mabu Baby updated their website and asked me to pass along the following information:
"The pads may seem long, but because the the diaper pad holder is elasticized you can smooth the pad out fully until it makes the pad holder into a u-shaped cradle that holds in leaks."  So no need to fold the pad like I do in the video!  Stick that sucker in there the way it is! 😉
See all my photos from my Mabu Baby review here!
The
Mabu Baby Eco-Diaper System
can be purchased several ways.  You can purchase a
starter kit
(which includes outers, pad holders, washable pads, disposable pads, and liners) or purchase all components separately at reasonable prices.  And yes, all of the options are available at my local store.  Click
here
to find a store close to you that stocks Mabu Baby diapers and see a form you can use to request that your local Walmart begin carrying them!
You may wish to resell your diapers when your baby sizes out or keep them around for your next baby!  When your child moves up to the next size, smaller pads can be used as boosters by folding them into the washable pad, a great way to reuse diaper parts!
A few notes I have that may be negatives for some:
They do only come in white.  This might not be a big deal for you, but some people really get into colors and prints.  Perhaps if sales are excellent and the response is great, maybe colors will be next!
Because there are 3 pieces involved, this system may seem a little confusing for people unfamiliar with cloth diapers.  However, if families research their purchase, they will see how easy Mabu Baby diapers are to use!
There are no training pants for potty trainers, but not all diaper brands have training pants.  I would love to see Mabu Baby come up with an easy-up, easy-down pant for little ones learning to use the potty!
Overall, I believe the Mabu Baby Eco-Diaper System is an excellent choice for parents who are new to cloth diapers or are very familiar with cloth.  They're easy to purchase, convenient to use, and will fit any budget.    Check out MabuBaby.com for more information about the company and their parent company Mabu Natural Products, maker of more great products, including the Duzi Cloth and Odor Gator!
Disclosure Statement:  Krista received products from Mabu Baby free of charge in exchange for an honest review.  Krista was not required to write a positive review and these thoughts are her very own!